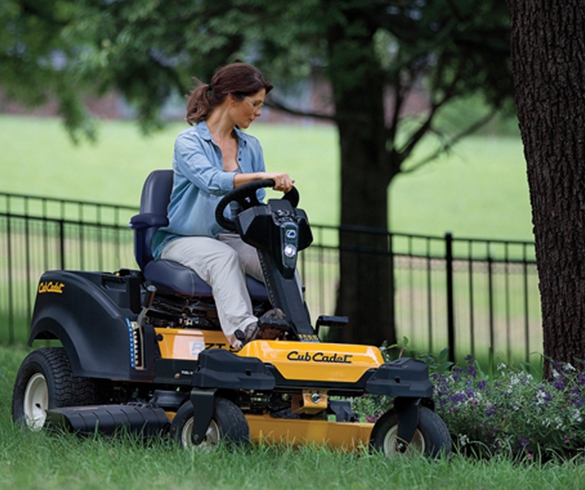 If You Know Zero About Zero-Turn Mowers, Here's What You Need to Mow

All lawns are not the same, and using the right equipment to maintain the lawn is important. After all, unlocking the potential of the lawn can result in significant advantages from curb appeal to relaxing in the backyard to hosting gatherings with family and friends.
Many homeowners may have a push mower, a lawn tractor or both – and technology on lawn equipment has come a long way over the years. Today's lawn tractors incorporate fuel-injected engines or feature Bluetooth technology that connects with a smartphone.
However, a third lawn mowing option is gaining in popularity – the zero-turn mower. It's called a zero-turn mower because its design allows users to make zero-degree turns – allowing for easier maneuverability around trees, shrubs, lawn decorations and other obstacles typically encountered when mowing.
Zero-turn mowers are becoming more popular for homeowners because they are comfortable, have great handling and can mow lawns quickly and efficiently.
Here are three key areas to consider with zero-turn mowers:
Control
Cub Cadet offers its RZT SX Series that includes a more familiar steering wheel versus the typical lap-bar controls that traditionally have been seen on zero-turns.
The steering wheel option offers patented SynchroSteer® technology, providing unparalleled stability on hills and terrain with no turf damage. With four-wheel control, the RZT SX delivers incredible handling and unmatched stability on hills. The line is available in a variety of cutting widths from 42 to 54 inches.
Comfort
The RZT SX includes a premium cushioned seat with armrests, a storage console and charging station provide extra room to bring all the necessities. Mowing near dusk? Built-in LED lights let homeowners mow when the sun isn't on their side.
Support
All of Cub Cadet's residential zero-turn mowers feature a 3-year limited warranty and are supported by the strong nationwide network of locally owned Cub Cadet Independent Retailers ready to provide advice and support whenever needed.
Find more information about the latest innovations and technology in lawn equipment at CubCadet.com
Source:
Cub Cadet