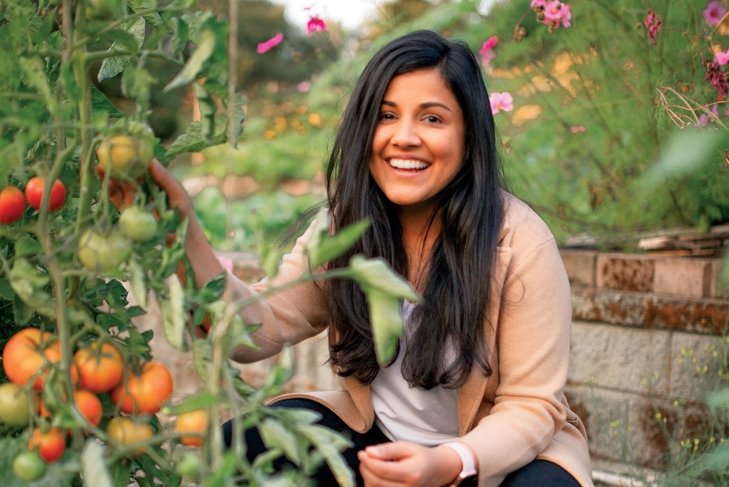 We'll just come out and say it: We love meals in bowls. You can squeeze a whole lot of plants into a half orb! So when we heard that Instagram star and blogger Sapana Chandra of Real + Vibrant was launching a bowl-centric cookbook this spring, we were ready.
"With farmers' markets opening up again and fresh produce readily available, spring is one of the easiest times of the year to start incorporating more plants into your diet," writes Chandra in Plant Power Bowls. "[Spring] brings us green vegetables of every shade to detoxify our bodies and help us feel lighter from within."
Amen to that—and amen to these three veg-filled recipes from Plant Power Bowls that are giving us (lightened-up) life.*
Recipes
Quinoa Buddha Bowl with Beet-Tahini Dressing
---
Curried Cauliflower Bowl with Cilantro Chutney

---
Watermelon Poke Bowl with Spicy Sriracha Dressing
The formula: designing your own bowl
Once you've mastered these recipes, you may eventually decide you want to branch out into your own combinations or just modify some of mine. Here's how you can create a power bowl unique to you.
Start by choosing a bowl that can hold your entire meal. I have a number of bowls in various sizes, but my go-to is usually an 8 inch bowl that can hold 3 to 4 cups of food.
Add leafy greens, like spinach, spring mix, kale, arugula, romaine or chard.
Add grains or pseudo-grains, like quinoa, rice, millet or farro.
Add proteins, like chickpeas, beans, lentils or edamame.
Add healthy fats, like avocado, nuts and seeds.
Add cooked or raw fruits and vegetables.
Top it off with a flavorful dressing, sauce or pesto.
How does Sapana Chandra ensure she gets *the* freshest produce for her bountiful bowls? In Plant Power Bowls, she reveals that she finds out which days her neighborhood grocery store receives its produce deliveries so she can plan her shopping trips accordingly. (Brb—going to ask our local grocer a very important question.)

*©2019 By Sapana Chandra. All rights reserved. Excerpted from Plant Power Bowls by permission of Sasquatch Books.