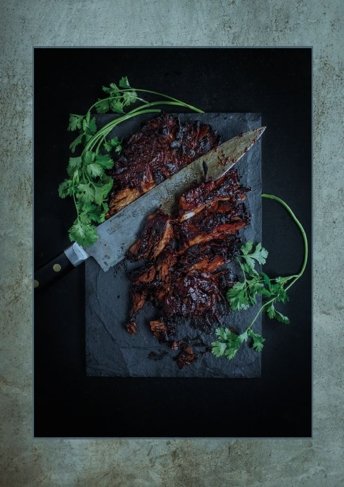 When Sadrah Schadel and Mike Woliansky rolled up to a farmers market in Asheville, NC, with a cooler full of plant-based meat in 2014, they never imagined how far their wares would take them.
They started with a vision: to make plant-based meats from healthy, whole- food, environmentally friendly ingredients that had the taste and texture to satisfy the average meat eater. Today, their No Evil Foods products are in more than 5,000 retailers nationwide.
The meteoric rise of No Evil Foods has paralleled the larger plant-based industry. A decade ago, the term "plant-based meat" barely registered with the average consumer. Now, meat aisles have whole sections devoted to animal-free options that grill, sizzle, and even "bleed" like the real thing. Longtime vegans like myself have endless options—and flexitarians can choose plant-based meats that taste just like what they're used to.
It makes you wonder: Has plant- based meat peaked? Or is it headed for global domination?
THE JOURNEY TO THE MAINSTREAM
Consumers are shifting toward plant-based proteins due to health, environmental, and ethical concerns; two-thirds of Americans purchase meat alternatives.
According to retail research giant SPINS and the Good Food Institute, sales of plant-based meat in America grew 18 percent in the past year and 38 percent over the past two. Research firm MarketsandMarkets predicts sales of plant-based meat will climb to $27.9 billion globally by 2025.
Some plant-based meat brands have become household names, largely thanks to their believably beef-like burgers. (Beyond Meat products, for example, are available in more than 65 countries and 77,000-plus outlets, from restaurants to grocery stores.)
Given that rapid growth, companies across the world are feverishly working on the next wave of products to replace meat.
CAN THE MOMENTUM CARRY ON?
In Spain, Novameat is using 3D printing technology to create steaks. In New Zealand, Sunfed Foods is making meatless chicken with just seven ingredients.
"It's a mega trend that has no need to slow down," says Chris Kerr, CIO of New Crop Capital, which invests in companies creating animal product alternatives.
Still, some issues remain that are stumbling blocks to further mainstream adoption of plant-based meat—namely scale, production, price, and lingering consumer resistance.
"The hurdle to go from a niche entry market into a mass-produced product is herculean because most of the companies that start the pilot launches of these are very small," says Kerr. "The next size up is generally gargantuan."
But now that larger companies like Nestlé and General Mills are looking to develop plant-based production methods, says Kerr, the landscape will likely change.
HOW IMPORTANT IS PLANT-BASED MEAT FOR THE PLANET?
It's  no  secret  that  people  like  meat.  They  like  it  so  much  that  the  world produces a staggering 320 million tonnes of meat per year. (That's more than the total mass of every human on earth, FYI.) Global meat production has more than quadrupled in the past 50 years. And getting people to stop eating what they like is a battle no one's been able to win.
But the demand for meat is choking the planet.
According to the Food and Agriculture Organization of the UN, raising livestock represents 14.5 percent of all global greenhouse gas emissions. Finding more sustainable solutions is a significant goal for many plant- based meat purveyors.
So how does plant-based meat stack up against its animal-derived counterpart, environmentally speaking?
In 2018, University of Michigan researchers found that producing one Beyond Burger versus one 1/4-pound beef burger resulted in 90 percent less greenhouse gas emissions, required 46 percent less energy, used 99 percent less water, and had 93 percent less impact on land use.
Oxford University research suggests plant-based diets reduce the emissions caused by food by up to 73 percent, depending on geographical location. So it's no surprise a recent report from The Intergovernmental Panel on Climate Change recommended a shift away from animal products and toward a plant-based diet to help combat climate change.
Exactly  how  much  of  a  shift  will  it  take?  Experts  haven't  come  to  a consensus. But it's clear that more plants and less meat is much better for the  planet.  Since  people  won't  give  up  meat  cold  turkey,  we  need  ever- more appealing alternatives.
WHAT'S NEXT?
The modern era of plant-based meat began with innovative products mimicking an American classic: the hamburger. In the coming months, instead of one product type gaining ascendancy, offerings will proliferate as chefs and makers strive to create healthier, more nutrient-dense options. We'll begin to see sub-trends within the growing move toward plant-based meat.
PLANT-BASED MEAT AROUND THE WORLD
The US leads the world in demand for plant-based meat—largely due to the introduction of Impossible Foods and Beyond Meat—but other countries are in hot pursuit. According to MarketsandMarkets, China, Germany, the UK, and France are projected to have high growth in demand in the coming years. In the UK, nearly one in four products that launched in 2019 were labeled vegan. "The UK is absolutely on fire right now," says Chris Kerr of New Crop Capital. "The consumer demand there—there's nothing like it anywhere else in the globe at the moment."
BEYOND THE BEEF
Poultry is the fastest-growing segment of the global meat industry—and plant-based poultry is positioned for a takeover. Of 100 billion pounds of meat produced annually in the US, nearly half is chicken. Companies like Gardein, Quorn, and Rebellyous Foods are all in on the chickenless game, with more players poised to enter.
Trend 1: Simpler ingredient lists
Ricardo San Martin, research director of the Alternative Meats Lab at UC Berkeley's Sutardja Center for Entrepreneurship and Technology, believes we need to move toward plant- based meat products that keep the nutritional profile of plants intact, so that we "don't … decompose what nature has taken so long to create."
That goal is beginning to come to fruition. It's now possible to find products that mimic meat, but with minimalist, whole-food ingredients.
Take the No Evil Foods lineup, which includes everything from plant-based chicken   to chorizo. "We're utilizing plant protein from European wheat to give us a stranded whole muscle texture, and then we combine it with whole foods like chickpeas and kidney beans, tomatoes, [and] organic herbs and spices. Very   simply,  that's plant meat," says Schadel.
"One of the things we were trying to address was that meaty texture—and how to do it with ingredients that were understandable and pronounceable," she adds. This allows people to connect the dots: "'This is what I'm eating; this is what's in my food. I  understand what this is; I understand how this  impacts my health.'"
Trend 2: High-tech innovation
On the more scientific side of plant-based meat, there's Noblegen, a Canadian company brewing up plant-based proteins from an ancient variety of algae: Euglena gracilis.
"It was one of the first complex single cells to form the starting point of evolution that led to plants and animals," says Noblegen founder and CEO Adam Noble. That makes euglena perfect for growing proteins that function like those of an animal.
The simple manufacturing process is similar to brewing beer. Just as yeast is fed in order to brew beer, the algae is fed sugar and other plant-based inputs. The algae then grows into complete proteins, carbohydrates, and fats.
The inputs vary and can include fibrous plant-based byproducts from other production processes.  There's no  genetic engineering involved, and the process only takes about a week.
Currently, the company offers a protein-rich flour for manufacturers and a plant-based whole egg powder for consumers. Eventually, Noblegen proteins will be used by manufacturers to make plant-based versions of all kinds of animal products, including meats.
Trend 3: More versatile options
Chad Sarno has been in the plant-based world for more than 25  years and has seen its exponential growth firsthand. He and his brother Derek Sarno are legendary chefs and innovators in the space.
Their brand, Wicked Healthy, is all about creating craveable plant-based fare. The name speaks to their philosophy of food: 80 percent healthy, 20 percent wicked.
Together, the Sarnos create salivation- inducing vegan recipes any home cook can follow. Derek also leads development of a vegan product line—including plant-based meats—for the UK's largest grocer, Tesco, under the Wicked Kitchen brand. Meanwhile, Chad keeps busy as a co-founder (along with Chris Kerr) of plant- based seafood company Good Catch Foods. "The goal is to alleviate this world of suffering and to put plants on the plate, showing people the versatility and the opportunity that we have to reach for plants rather than an animal product," says Chad, who's also VP of culinary at Good Catch.
Good Catch's fish-free, shelf-stable tuna is currently in 4,500 stores. It's made with recognizable ingredients—pea, soy, lentil, chickpea, fava bean, and white bean proteins—and provides a tasty, sustainable, and omega-3-rich substitute for overfished tuna. The company recently launched crab-free cakes and other new fish-free products.
"As soon as you get people on board and share how easy a product is to work with … and the product doesn't perform differently than what they're used to, then it's going to be adopted," Chad adds.
JUST THE PLANTS, PLEASE
Even as packaged plant-based meats improve, people are increasingly realizing they can make satisfying, meaty dishes themselves with plants and plants alone. Mushrooms, for example, are a key component in many of the Sarnos' Wicked Healthy recipes. The brothers transform king oyster mushrooms into scallops and morph maitakes into steaks.
With homemade and premade plant-based meats, the Holy Grail is the same. Chad says it's all about "bringing back food memories" and appealing to the emotional connection we all have with food. "You do that through texture, taste, aromatics, and—of course— being flavor-forward."
Hannah Sentenac is a Los Angeles-based writer and lifestyle expert who focuses on conscious food, drink, shopping, and travel. bharmless.com; @bharm.
This article was originally published in the July/August issue of alive USA, under the title \"Plant-Based Meat: The Future of Food?\"