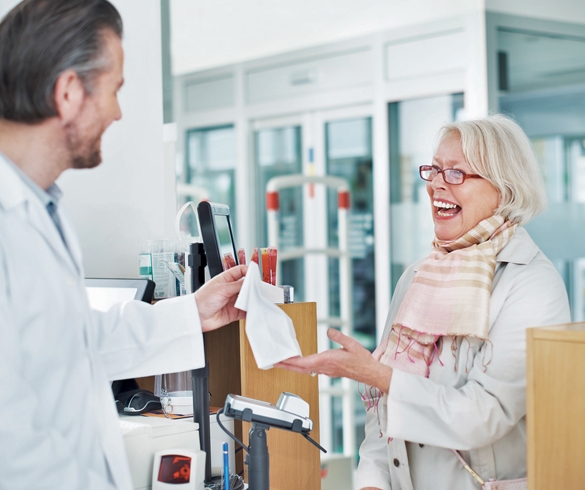 3 Ways Seniors Can Control Prescription Costs

For 55 million Americans enrolled in Medicare, the New Year means any new Medicare Advantage or prescription drug plans, or any changes to your existing plans, take effect. If you signed up for coverage, it's important to understand how your prescription drug costs may be affected.
Even if you did nothing to alter your coverage, some features of your plan may have changed for 2017. Getting a handle on Medicare Part D prescription drug coverage is important to your health as well as your pocketbook.
"A survey by Walgreens showed that in order to manage prescription drug costs, some people have delayed filling a current prescription or occasionally skipped prescribed doses to stretch medication," said John Lee, senior director of Medicare at Walgreens. "This is a real concern as it can pose significant health risks, so it's vital to evaluate your medical situation, have a plan that best fits your needs and then understand how to get the most value from your plan and pharmacy."
The survey shows that even though prescription drug costs are among the top concerns for Medicare beneficiaries, approximately one out of every five beneficiaries lacks a good understanding of their insurance plan. Roughly the same percentage falsely believes that all pharmacies charge the same copay and one-third of respondents didn't know they can switch pharmacies at any time, including outside of the annual enrollment period. The survey reinforced the need to educate beneficiaries about how plans and coverage can and do change from year to year. To make the most of your benefits and find potential cost savings for your prescription medications under your Part D coverage, here are three easy steps to get started:
Use a less expensive brand or generic. The brand-name drug your doctor prescribed can do wonders for your symptoms but be worrisome for your budget. Many brand-name drugs have generic or other brand substitutes. First, make sure your doctor considers generic options. If those options aren't available, there may be lower-cost brand-name drugs used to treat the same condition. Ask your pharmacist if you have that option then talk with your doctor to see if switching brands makes sense in your situation. Finally, whatever your prescription may be, a 90-day supply from your pharmacy can be less expensive out of pocket than refilling every 30 days.
Verify whether your plan has a preferred pharmacy network. Many prescription drug plans have a preferred pharmacy (preferred cost share) network where you can pay a lower out-of-pocket copay for the exact same drug. Walgreens is in the preferred pharmacy network for many of the largest Medicare sponsors and, effective January 2017, offers copays as low as $0 on generic medications for select plans. Filling a generic medication at a non-preferred pharmacy could cost you $3, $5 or even $10 for the same drug.
Seek Medicare's Extra Help program and other ways to save. Medicare offers an Extra Help program to help people with limited income and resources pay Medicare prescription drug program costs, like premiums, deductibles and coinsurance. Make sure you're taking full advantage of your insurance coverage, which may cover non-prescription items, like vaccinations and certain over-the-counter medications.
Medicare beneficiaries seeking help navigating prescription drug costs can find additional resources and a list of Medicare plan sponsors at walgreens.com/medicare.
Sponsor:
Walgreens
Save
Save