Comfortably Aging in Place

Having lived in the same ranch house for 55 years, John Heck's grandparents wanted to make any and all necessary accommodations to allow them to peacefully age in place. Using his expertise as a home remodeler, Heck completed a variety of aging-in-place related projects in their house, including adding grab bars to the bathroom and other small comforts.
"I feel very lucky knowing my grandparents live in a one story and have my assistance making home adjustments to ensure that they can independently age in place," said Heck, owner of VIP Remodeling & Construction Services, LLC. "Many folks who ignore the fact that they are aging and need to make adjustments wind up injuring themselves and being uprooted from a more affordable, comfortable lifestyle and proximity to loved ones."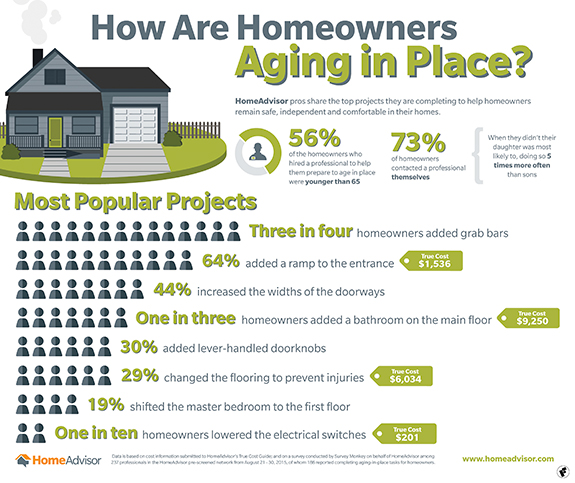 With the number of U.S. residents 65 or older growing from 35 million in 2000 to nearly 73 million in 2030 according to the U.S. Census Bureau, baby boomers entering or approaching retirement need to be aware of how they can best prepare to age comfortably. According to HomeAdvisor's 2015 Aging-in-Place Report, more than half of homeowners who hire a professional for an aging-related home improvement are under 65 years old, with 10 percent younger than 50.
"Too many of us wait until we reach a health or financial crisis to plan for getting older," said Marty Bell, Executive Director of the National Aging in Place Council. "We plan our careers, we plan to send our children to college, we plan our vacations, but we don't plan to age. And yet the evidence is there that those who do accept they are going to get older and make plans in advance have a considerably better later life."
Heck notes that even making small adjustments in a home over time, such as adding stair lifts and handicapped accessible and curbless showers, can make all the difference in aging safety.
The top aging-in-place related projects completed by homeowners according to HomeAdvisor's Aging-in-Place report include:
Adding a personal alert system: Personal alert systems provide necessary security in case of an emergency accident or fall. Installing a personal alarm system costs an average of $652, according to HomeAdvisor's True Cost Guide.
Adding grab bars: Many accidents and falls take place in the bathroom. Homeowners may choose to add grab bars to help them safely enter and exit a bathtub or shower.
Building a disability ramp: Adding a wheelchair ramp, at an average cost of $1,547, offers accessibility to wheelchair or walker users. Various factors go into the cost and safety of a ramp, including slope, weight specifications, landing and materials.
Installing a stair lift: A staircase lift can eliminate the risk of injury on one of the most dangerous parts of a home. Folks with mobility issues can access the upstairs level safely with this highly reliable added function.
To find a home professional to complete aging-in-place projects, visit HomeAdvisor.com.
Source:
HomeAdvisor