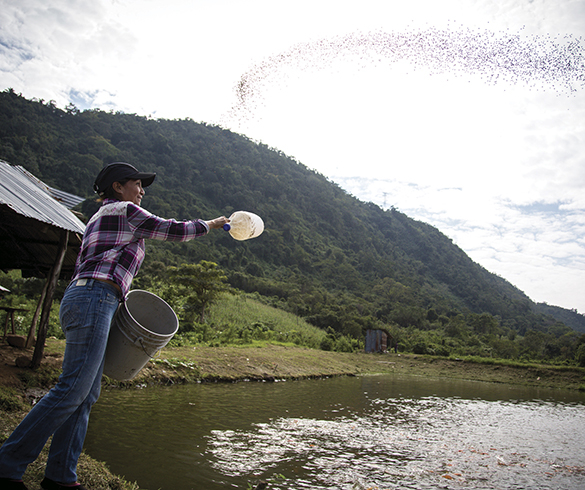 Local Communities Empower a Resilient Global Food System

Global Communities found themselves facing food insecurity at unprecedented levels due to COVID-19, but a focus on sustainability, support from partners and frontline workers kept food on tables – and proved, with agility, the food system can respond to a crisis.
The global food system is powered by people. Farmers, ranchers and factory and food service workers are critical to food production. Their resilience helps ensure safe and nutritious food makes it around the world. In the face of COVID-19, food industry workers were significantly impacted and health systems were immensely strained, causing global communities to face food insecurity.
Communities were relying on food industry workers and farmers to ensure food would be grown and produced and make its way across borders. To keep moving amidst the crisis, the food and agricultural system needed to provide support by advocating for the safety of frontline workers, addressing severe disruptions and areas of food insecurity and providing resources and monetary support for those most deeply impacted.
Supporting Organizations that Address Food Insecurity
For Cargill, a food and agricultural company operating in more than 70 countries, focusing on local action meant reinforcing its partnership with global humanitarian organization CARE to support farmers and communities. Since 2008, together, they have reached nearly 2.9 million people through 31 projects in 12 countries. As Central America experienced urgent needs in 2020, Cargill and CARE's Nourishing the Future program enabled quick mobilization of resources to regional communities and farmers.
"Our purpose is to nourish the world in a safe, responsible and sustainable way. It's why we exist," said Michelle Grogg, vice president of corporate responsibility and sustainable development at Cargill. "As our food system faces extraordinary challenges, from climate change to food insecurity exacerbated by COVID-19,we need everyone working together to promote global prosperity and food security."
The result: Households and communities were provided with the tools and resources they needed to rebuild more quickly. Through their partnership, 195,000 pounds of food and hygiene supplies were distributed to more than 15,000 vulnerable families across Central America. Through their agricultural training package, 1,400 farmers were able to revitalize their businesses, generating more than $300,000 after the most recent harvest.
"Supporting equitable livelihoods for everyone in the agriculture community is crucial to transforming our global food system," said Michelle Nunn, president and CEO of CARE USA. "At CARE, we are engrained in these communities. Working with Cargill, with their technical expertise and experience, ensures that our efforts on the ground translate into long-term, systemic impact."
How Consumers Can Help
Individuals can help by supporting or volunteering for organizations providing assistance for frontline workers – those in countries like India and Brazil who are still in the throes of the COVID-19 health crisis and those looking at what a post-pandemic food system looks like. Learn more about Cargill and CARE at Cargill.com and look for ways to get involved in your local community.
Source:
Cargill