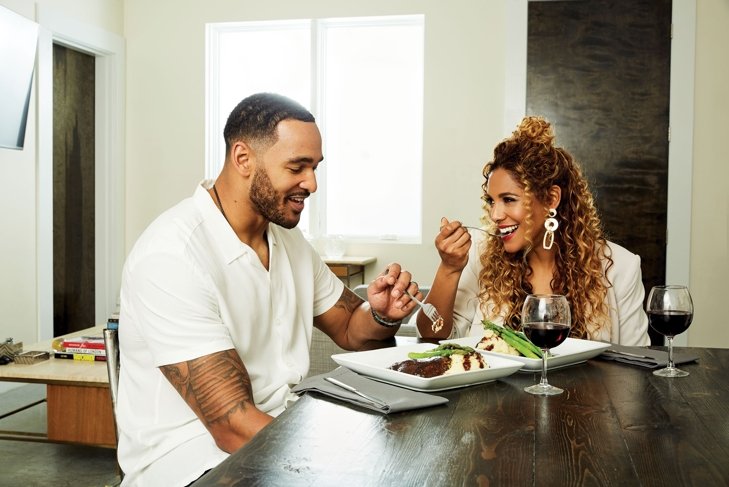 Whatever she does, Charity Morgan is all in. The chef attended the California Culinary Academy, an affiliate of Le Cordon Bleu, which means her kitchen education was rooted in French cooking, with lots (and lots) of butter. Charity's father is Creole and her mother Puerto Rican, so her childhood food traditions included pork, seafood and more butter. She cooked for her family of four using those traditions and ingredients … until two years ago.
That's when her husband, Derrick Morgan, who'd been a linebacker for the NFL's Tennessee Titans since 2010, saw a nutritionist who recommended that the professional athlete switch to a completely plant-based diet. No more meat or seafood—and no more butter.
On Charity: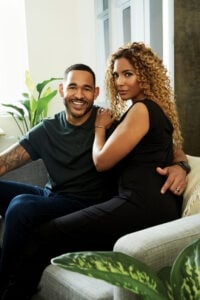 On Derrick:
A similar mindset shift was taking place across town at the Titans' training facility. During pre-season training camps, players practice for long days, typically eating a team-supplied lunch. Derrick's teammates were noticing the vegan meals—lunch, dinner and a smoothie—Charity made for him. They clocked the variety of dishes and spices: These weren't cardboard-textured fake meats. These weren't flavorless bowls of mush. These foods looked like something they'd want to eat.
Next, they noticed that after lunch, Derrick had energy. His body wasn't wasting precious on-the-field energy trying to break down a lunch of steak and potatoes.
"I found myself sleeping better. I found myself recovering better. Around day eight, nine, 10—that's the grind of camp—I was sore, but I wasn't as sore as I used to be in the past," Derrick remembers.
His teammates asked a lot of questions. "I started sharing my meals with them, which is hard for me," Derrick jokes. After they tasted Charity's vegan burger, guys lined up at Derrick's locker, asking if Charity would cook for them as well. "They were paying for each meal when we had free food at the facility," Derrick emphasizes. Charity made three meals plus a smoothie every day during training camp.
Camp is her busiest time cooking for the team. The number of Titans players for whom she cooks varies—players often are cut from the team or injured ("that's why they call it the Not For Long League," Charity quips)—but has ranged from only Derrick to as many as 25, and generally falls in the 10 to 15 player range. She's had to turn other players down; there's a limit to how many meals she can make at once.
Punter Brett Kern told her it would typically take him five days to recover from inflammation, but on a plant-based diet, it took two. "They were like hot speeding bullets on the field, and they realized it," Charity says.
Of course, these Titans aren't the only athletes to choose a plant-based diet. Cam Newton, quarterback for the Carolina Panthers, recently announced he's gone vegan. Several LA Dodgers baseball players have gone dairy free. Top-tier NBA players have embraced a vegan diet, and in the UK, there's an entire vegan professional soccer team. Tennis players Novak Djokovic and sisters Serena and Venus Williams have performed on plant-based diets. But seeing football players, known for their strength and size, embrace this way of eating is powerful.
It feels powerful too. The Morgans felt great after making the switch, and Derrick's teammates were seeing the benefits. Still, not everyone was convinced—especially initially. "Coaches were concerned," Derrick concedes. "Vegan has a negative stigma to it in the world of athletics."
Playing as a team
At first, Derrick's new diet was more of a nuisance than a revelation.
"It became kind of annoying because Derrick was like, 'Oh, can you make me this? Can you make me this?'" Charity remembers with her characteristic candor and humor. "I'm not a two-meal kind of mom. Whatever I make, the whole house is eating it."
The combination of not wanting to be a short-order cook in her own home, dealing with some digestive issues and seeing how Derrick, a pro athlete with abs of steel, was performing led Charity to try a plant-based diet herself. After a month, she experienced less mental fogginess and slept better—and those digestive problems disappeared.
Convinced, it was time to get the whole family, including their two kids, then five and one, on a plant-based diet. She went to the grocery store and "bought almost every freakin' vegetable in the store." She unloaded the groceries on the kitchen counter in their Nashville home and realized she had no idea what to cook. The toddler was hungry, and homemade chicken nuggets in the freezer would have been an easy option.
"I heard a voice in my head that said, 'Just make everything you've always made—just change the ingredients.' And that was the paradigm shift that I had. I got it. My dad being from Louisiana Creole background, I decided to make a vegetable jambalaya. My kids loved it; Derrick thought it was amazing."
At first, the thought of giving up seafood (those dishes associated with her mom) was tough for Charity, as was weaning herself off her morning eggs. "I thought I needed that protein, but then I looked at my husband—and look at him!" His well-defined muscles were all the evidence she needed that a plant-based diet was nutritionally sound.
NFL-worthy nutrition hacks
Just because something is vegan doesn't mean it's healthy. Derrick Morgan can tick off a list of some of his favorite foods—cupcakes and deep-fried cauliflower among them—that aren't good for him even though they're plant based. But Charity Morgan says there are easy, at-home hacks to make your vegan eats better for you. Try these ingredients in your kitchen.
Baobab: This fruit provides a natural electrolyte boost with its potassium, calcium and magnesium. It's also high in antioxidants like vitamin C. Charity uses it in smoothies. (You can find it in easy-to-use powder form.)
Turmeric: Related to ginger, this spice is used worldwide, often in curry powder. It has become popular for its anti-inflammatory properties. That's why it's a go-to for Charity.
Matcha: This green tea powder gives a natural energy boost and antioxidant benefits. Charity adds it to smoothies.*
Moringa: Charity says she absolutely could not cook without this super green, given its anti-inflammatory properties.
Supplements: Depending on how you eat and what your body needs, you might need more than a vegan diet provides. "I understand where my deficiencies could be," Derrick says. "I supplement with vitamin B, vitamin D and iron."
*You can test drive matcha in the recipes here!
Locker room talk
"There are associations with the word 'vegan,'" adds Charity. She prefers the term "plegan," a portmanteau of "plant" and "vegan."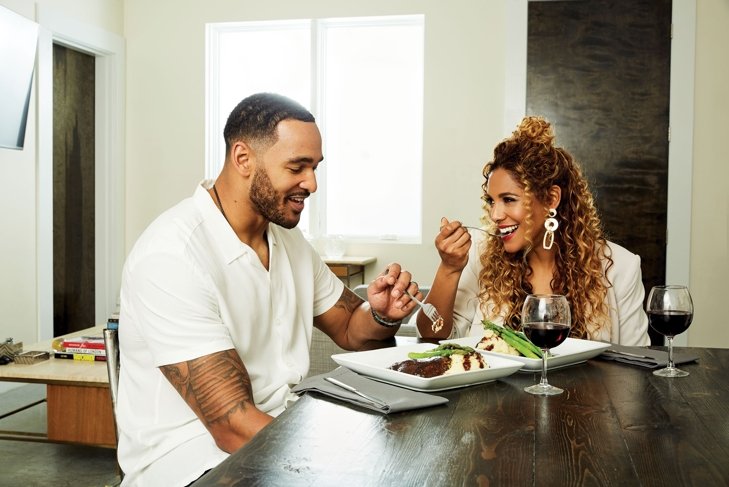 On Derrick:
Game-day goodness for all
Derrick and Charity hope to bring easy plant-based options not just to elite athletes, but also to anyone looking to reduce their meat consumption.
Although Charity trained as a gourmet chef, she's come to realize that eating gourmet food is a special occasion for most people—once or twice a year—and that folks would rather have a vegan take on buffalo mac and cheese than artfully presented smoked radishes. As she looks to expand her influence beyond the players on Derrick's team (and on social media with her more than 24,000 Instagram followers), possibly by writing a cookbook or opening a restaurant, fast-casual food is where she thinks her biggest impact will be.
"It is not a sacrifice to eat this food," Derrick says. "More than half of Charity's food is food that people eat and do not know it is vegan." He recalls that one day, his father started raving about a lasagna Charity had made. "He had no idea it was plant based! This is a guy who eats fried chicken every day. Charity's talents are endless because she can make great dishes that are transitional."
A touchdown for taste—and health
The average person eats three to five meats, Charity says. Think about it: Chicken, fish, and the occasional slice of bacon are probably in rotation in most omnivores' kitchens. But there are thousands of edible plants. That's a lot of possible ingredients for plant-based dishes—and a lot to get excited about.
"We both have a passion for this space, for giving people more options," Derrick says. "Within the black community, our ancestors' relationships with food have plagued the community with different diseases, like heart disease, high blood pressure, high cholesterol. I inherited high blood pressure from my dad. They grew up on fried chicken and chitlins. Those things have been passed down from slavery. We were always eating what was left around.
"When you ask, 'Why do you eat like that?', people say, 'This is what my mom cooked.' We have a big role in disproving that. You do not need to keep perpetuating the cycle of unhealthiness."
"I want to be an ambassador of the plant-based world," says Charity. "I want to let people know that they can do it."
---
Eat like a Titan!
Here are a couple of Chef Charity Morgan's signature dishes.
Portobello Steaks with Chimichurri Sauce

Serves 4
This is a vegan steak house plate. Of course, you can get creative with the side dishes and use all your steak house à la carte faves. What's great about these portobellos is that they can also be served as a burger with some of your favorite burger fixings. The chimichurri is hands down my favorite condiment. In South America, you can find it on a piece of meat, used as a marinade or even employed as a bread dipping sauce. There are no limits to this condiment. I use it in potato salad!
Ingredients
Chimichurri sauce
1 bunch parsley
1 bunch cilantro
3 garlic cloves
1 Tbsp dried oregano
1/4 cup red wine vinegar
1/2 cup extra-virgin olive oil
Juice of 1 lime
Salt, to taste
1/2 tsp red pepper flakes
Portobello steaks
1 cup balsamic vinegar
1 tsp Dijon mustard
2 garlic cloves
1 tsp steak seasoning
1 tsp Italian seasoning
1/2 cup extra-virgin olive oil
Pinch of pink Himalayan salt
4 to 6 portobello mushrooms
Steps
Make the chimichurri sauce: Toss all chimichurri ingredients in food processor or blender. Pulse until mixture is smooth but still has texture. If you like a thinner chimichurri, add 1/2 cup water and pulse until incorporated. Transfer chimichurri to airtight container and refrigerate for up to 2 to 3 weeks.
Make the portobello steaks: In large container, whisk together balsamic vinegar, Dijon mustard, garlic, seasonings, olive oil and salt.
Remove mushroom stems and rinse mushrooms well. Pat dry with paper towel. Add mushrooms to marinade, refrigerate and marinate for 30 minutes to overnight.
Preheat oven on broil or a greased grill. Place mushrooms on paper towel to absorb excess liquid.
If broiling, place mushrooms on sheet pan lined with foil or parchment and broil until caramelized on each side. If grilling, place mushrooms on hot grill until grill marks are golden to dark brown in color.
Serve mushrooms with chimichurri sauce and sides or fixings of your choosing.
In each delicious serving (with 2 Tbsp chimichurri): 240 calories / 3 g protein / 21 g fat / 12 g carbs (7 g sugar, 2 g fiber) / 101 mg sodium
Big mis-steak
Don't make the mistake of avoiding steak seasoning just because of the meaty name. Steak seasoning is vegan! I like it because it has a lot of peppercorns.
Chickpea Omelet
Serves 2 to 3
This very simple recipe for chickpea "eggs" has been my favorite egg substitute. You can be creative and fill it with anything you would fill an egg omelet with. It's gluten free and soy free, depending on which toppings you choose, and it has a great crepe-like texture.
Ingredients
1 cup chickpea flour
1 cup unsweetened almond milk or any dairy-free milk
1/4 cup water
1 Tbsp nutritional yeast
1 tsp pink Himalayan salt or kala namak salt
1 tsp avocado or coconut oil
Desired omelet toppings (optional):

vegan cheese
sautéed mushrooms
vegan bacon, sausage or chorizo
spinach
kale
seitan
tofu
potatoes
peppers
onions, etc.
Steps
In medium bowl, whisk all ingredients except oil and omelet toppings until smooth.
Prepare nonstick or cast iron pan by melting avocado or coconut oil over medium heat.
If your pan is small or you want to make 2 to 3 smaller omelets, divide omelet mixture. Pour enough into pan to cover bottom completely with batter, about 1/4 inch thick. If you have a lot of excess liquid on top, pull one side of omelet slightly back and allow liquid to spill into area you just pulled back (just as you would with a regular egg omelet). Turn heat down to low and cover pan with lid for 2 minutes.
Remove lid and place desired toppings on omelet. Fold one side over, turn heat off and place lid back on (with heat off). I do this to ensure any vegan cheese is melted.
If scrambling, follow each step and instead of covering with lid the first time, scramble just as you would regular eggs. I cover toward the end to make sure cheese melts and chickpea flour is cooked through.
In each of 3 delicious servings (without optional toppings): 152 calories / 9 g protein / 5 g fat / 19 g carbs (4 g sugar, 4 g fiber) / 644 mg sodium
So egg-stra
Kala namak salt is a sulfur salt. It smells like … egg! If you want an authentic egg-like experience, use this salt.
Did going plant based make Derrick Morgan a better football player? During his first year on a plant-based diet, he led the Tennessee Titans in sacks. In 2018, he played 13 of the 16 regular season games, and CBS Sports lauded his pass rushing. Due to shoulder and knee injuries in 2018, though, it's tough to compare his performance pre- and post-"plegan" diet. But #91 is confident this diet has contributed to less soreness after practices and play, improved mental clarity and faster recovery from those injuries. In fact, Charity notes that in other cases, surgery would have been required, but Derrick recovered without it. Sounds like rutabaga is running interference for his health and quinoa is quarterbacking!
Image credits:
Photography | Matthew Simmons (@matthewsimmonsphoto)
Wardrobe stylist | Caitlin Colling (@caitlin.colling)
Wardrobe styling assistant | Megan Morrison (@msouth.styled)
Hair & makeup | Marz Collins (@marz_collins)
Retouching | Emily McGonigle (@emilymcgonigleretouch)