If you've been to a Starbucks recently, you might have noticed something a little different about your iced coffee—did it come with a straw? If it did, that won't be the case for long. Last summer, the global coffee chain announced a plan to eliminate all plastic straws by 2020.
To many people, it's just a straw. To actor, producer and environmentalist Adrian Grenier, it's an encouraging step in sustainability that could have a big impact on the plastic pollution that plagues our oceans. Well known as the star of HBO's Entourage, Grenier's role as an activist might be his most exciting yet.
"There have been scientists and humanitarians and environmentalists who have been telling the story of man's destructive path for a lot longer than I've been alive, but have we listened?" asks Grenier. "No."
He wants to tell the story in a different way. "There's always room for reinventing the way we can reach people—[to] shake them out of their complacency, get them, capture their imaginations—so that they're not just inspired by consumer storytelling and commercialism, but by stories of the soul."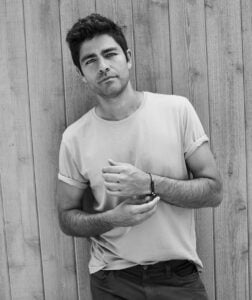 CHANGING TIDE
CLEAN-UP CREW
A battle begins
Seattle was the first battleground of the Strawless Ocean initiative. Pushing to go "Strawless In Seattle," Lonely Whale worked with business leaders, restaurateurs and organizations like the Seattle Mariners and the Port of Seattle to adopt strawless solutions. The hashtag #StopSucking encouraged the public to just say no to unnecessary straws. The result? In July 2018, Seattle became the first major city to ban plastic straws.
Grenier refers to the foundation's efforts in Seattle as a "gateway" campaign. "I'm looking to tell stories that are uplifting—[to] give people a sense of optimism and accessibility where they actually see themselves being part of the change. We're just asking people to do something very simple," he says. "But now that the gate has opened and now that people have joined us in participating, we have this momentum."
The plot thickens
In June 2017, Grenier was designated as a UN Environment Goodwill Ambassador, raising his profile as an activist even further. As an ambassador, Grenier has spoken about environmental issues around the globe. He's also been a vocal supporter of the UN's #WildforLife campaign, which advocated for the conservation of sawfish.
The actor is both honored and characteristically humble about his appointment. "Of course, it gives an air of legitimacy, but I'm still doing the same thing that I've always done. Every day, I commit to making a change in my life and sharing that change with others, and working with the UN … stretches [that] around the world to other governments and other ambassadors or organizations."
On World Environment Day this past June, the UN called for the elimination of plastic waste. That very day, India pledged to ban single-use plastics by the year 2022, joining efforts in countries like Kenya and Britain.
THE FIRST STRAW "If we can't do straws, then how are we going to do the bigger things?" Falcon crew neck sweatshirt by life/after/denim; Siroko wetsuit by Body Glove. Photo credit: Ben Fink Shapiro
A reckoning looms
Despite good news stories like the one in India, it's a frightening time for the climate. It's been a year and a half since the US withdrew from the Paris climate change agreement, climate change has resulted in deadlier storms than ever and the UN's startling new report on global warming has shed new light on how dire the situation is. Looking at the depth of the damage we've done to the environment can feel like staring into an abyss.
Grenier understands the challenge he's up against, but he believes in starting small and staying positive. "Look, if you start to look at the problems of the world, it's very easy to put the pillow over your head and not get out of bed for the day," he says. He's a realist, but he gets turned off by the narrative of "'we're all going to die and there's nothing you can do about it because we humans suck.'" He says, "There's no hope in that. There's no agency."
How will the story end?
Giving people a sense of agency and innovation is where Lonely Whale sets itself apart. What's next for an organization that has already accomplished so much? First off, Grenier hopes to repeat the success the foundation had in Seattle, both in public support and legislation, in other cities. Efforts are underway in NYC by Lonely Whale to eliminate straws. Grenier hopes to take the campaign to Los Angeles too.
Lonely Whale is also ramping up its efforts with Dell (Grenier is the tech company's first Social Good Advocate) in the NextWave initiative, which intercepts plastics headed for the ocean and instead integrates them into companies' supply chains as products or packaging. NextWave has already partnered with companies like GM and Herman Miller.
"Adrian challenges Lonely Whale to think outside the box just as he challenged Dell to create NextWave," sums up Ives.
Our story opens in …
… New York, where Grenier grew up with a mother who imbued him with a sense of environmental responsibility that he would foster throughout his life.
Fast forward to Hollywood, 1999, when Grenier turned heads in the teen rom com Drive Me Crazy. In the years that followed, he made a name for himself in films like The Devil Wears Prada and, of course, the show Entourage, in which he played struggling-actor-turned-film-star Vincent Chase. In a particularly Hollywood twist, Grenier's Entourage alter ego played Aquaman in a fictional James Cameron movie—and now it seems Grenier is living the part in real life.
Cut to present day: The 42-year-old actor has embraced the role of environmental advocate. He's shedding a light on critical problems like overfishing and plastic pollution in the ocean, and he's spearheading efforts to effect real change. He's also working with his mother to build an energy-efficient home in Brooklyn, complete with denim insulation and solar thermal heating.
"My mom taught me to clean my room," he says with a laugh. "Now my room is the whole planet." That makes for some interesting metaphorical roommates—including one that has revealed Grenier's unique strength as an environmental advocate with an actor's and producer's skillset: He knows a good story when he sees one.
The (really very big) hero
He's deep in the Pacific Ocean. He's alone. And it sounds like he doesn't want to be. Meet "52 Hertz," a solitary whale that calls out, waiting for a response that has never come. Named after the frequency of its song, which is much higher than other whales' calls, this whale has never had any kind of recorded interaction. Scientists have theorized that the whale is either a unique hybrid or that it suffers from a malformation that makes its call impossible for other whales to understand.
Grenier was introduced to 52 by friend and producer Lucy Sumner. Immediately, he felt his heart go into overdrive. "My empathy meter went off the chart after hearing this tale of this whale seeking connections," he says. "The lonely whale had an opportunity to bring people together and … build empathy in people for something bigger than themselves." He adds that it's ironic that the whale is a mythic creature that has the capacity to speak directly to our humanity, yet we can't communicate with it. He even describes the whale as the ultimate "hero figure."
Grenier and director Joshua Zeman launched a Kickstarter campaign for a documentary film to find the mysterious whale and tell its story. Bolstered by support from celebrity pals like Leonardo DiCaprio and artist Shepard Fairey, along with the public, Finding 52 is now in post-production.
The (deceptively small) villain
The unanswered song of 52 inspired more than just a documentary. Ready to dig in and inspire change, Grenier and Sumner co-founded the Lonely Whale Foundation in 2015. Envisioned as an "incubator for courageous ideas," the foundation works for a cleaner ocean through education, advocacy campaigns and business partnerships designed to implement scalable solutions. According to Lonely Whale executive director Dune Ives, the foundation puts "tremendous energy toward pushing the envelope on bold global initiatives to measurably reduce plastic pollution."
But where to begin? After all, an eye-popping 8 million tons of plastic are tossed into the ocean each year.
"That's a very upsetting reality," Grenier laments. "How do we tackle that? Do we try and tackle [it], or do we do something that everybody can do easily and get people involved?"
Grenier and Lonely Whale decided to start with one of the worst culprits of ocean waste: plastic straws. A single straw may not seem like much, but when you consider that 500 million straws are tossed out by Americans every day, fighting the straw becomes downright Herculean.
"There are a lot of people out there that want to say straws are the most insignificant part … Well, if we can't do straws, then how are we going to do the bigger things?" asks Grenier.
Thus, the Strawless Ocean initiative was born.
By harnessing the power of storytelling and encouraging the public to take small, realistic steps, Grenier is leading a new generation of activists into a cleaner, healthier future. While Lonely Whale's goals are as big as their mascot, Grenier stays grounded by keeping things simple. "The most important thing is how we care for one another," he says. "If we do care, we will make the world better. So don't start by trying to save the world. The planet will be fine on its own. But if you start with looking at somebody with love and wanting to make their world a little bit better, you'll naturally make the right choices."
The numbers behind the story
10 metric tons of plastic make it into the sea every day in the Los Angeles area alone.
35 billion plastic water bottles are thrown away by Americans every year.
>94,600 square miles of ocean have been dubbed "dead zones" due to pollution. (That's an area larger than the UK.)
90% of trash floating on the surface of the ocean is plastic.
>100,000 marine mammals die each year as a result of plastic pollution.
2050 is the year in which there will be more plastic in the ocean than fish (by weight) if we don't change the story.
Feeling inspired to stop sucking on plastic straws, but still want to slurp your damn drink through a tiny tube sometimes? We feel you. Try a silicone, steel or glass reusable straw, or paper straws if you're in a pinch. Our favorite straw alternatives? The bamboo straws at strawfree.org. Each one is handmade by volunteers in the USA, and all proceeds go to education and outreach about plastic pollution. No more being bamboo-zled by plastic!