The Business of Reading

5 impactful books for building your small business
Regardless of the type of business you conduct, reading can be an essential ingredient in helping your endeavors thrive. Making reading – particularly books about your form of business – a regular part of your routine can help expose you to ideas and models of thinking you otherwise may not have considered.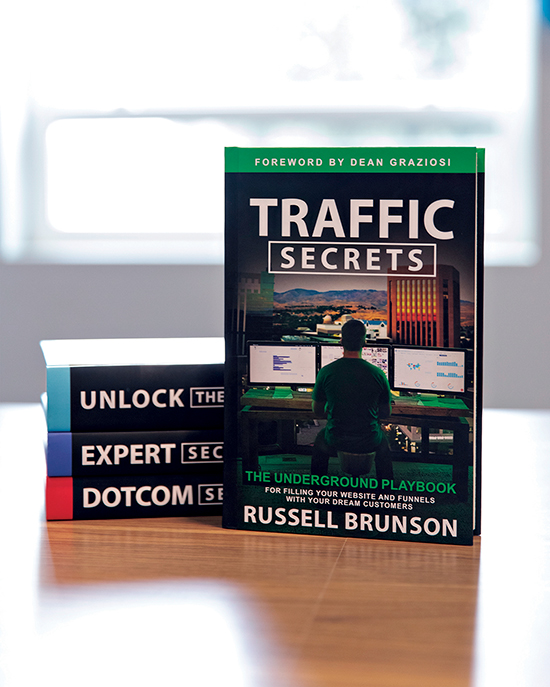 Whether you're looking to propel your business forward or searching for the perfect gift for an entrepreneur, consider these "go-to" choices from Russell Brunson, the founder of ClickFunnels.com – which helps entrepreneurs get their ideas into the marketplace quickly and efficiently – and author of best-selling books "Dotcom Secrets" and "Expert Secrets."
"American Kingpin"
The true story of a man who built a billion-dollar online drug empire from his bedroom and almost got away with it, "New York Times" bestseller "American Kingpin" by Nick Bilton chronicles Ross Ulbricht, who launched the Silk Road, a clandestine website on the dark web that ballooned into a $1.2 billion enterprise where drugs, hacking software, forged passports and more were traded. Spurred by public outcry, the federal government launched a 2-year manhunt for the site's elusive proprietor, racing against the clock to catch a man it wasn't sure even existed.
"Traffic Secrets"
The biggest problem many entrepreneurs face isn't creating an amazing product or service, it's getting their future customers to discover they even exist. In Brunson's third book, "Traffic Secrets," he reveals classic and foundational direct marketing techniques that can allow you to be at the front of new trends, see opportunities that are invisible to most everyone else and master emerging tactics before most people even know they exist. With step-by-step instructions to master multiple traffic sources, these evergreen strategies can be implemented to find customers and create demand for your products and services. Visit grabtrafficsecrets.com to get a free copy of the book while supplies last.
"Lost and Founder"
The traditional Silicon Valley story of "college dropout with a cool idea overcomes all odds to make billions" can lead many startups astray, and Rand Fishkin, the founder and former CEO of Moz, pulls back the curtain on tech startup mythology, exposing the ups and downs of starting your own company. At both early-stage startups and mature companies, regardless of the business' trajectory, "Lost and Founder" can help solve your problems and make you feel less alone for having them.
"Play Bigger"
Winning in business today is about inventing a whole new game – defining a new market category, developing it and dominating it over time. In this pioneering guide, the founders of Silicon Valley advisory firm Play Bigger (Al Ramadan, Dave Peterson, Christopher Lochhead and Kevin Maney) rely on data analysis and interviews to understand the inner workings of "category kings" and introduce the new discipline of category design. By applying category design, companies can create demand where none existed, conditioning customers to change their expectations and buying habits.
"This is probably my favorite book at the moment," Brunson said. "In my book, "Expert Secrets," we talk a lot about the 3 Core Desires, your submarket and your niche. This book takes the concept of niches to the next level."
"Crossing the Chasm"
A "Business Week" bestseller, "Crossing the Chasm" by Geoffrey A. Moore provides a game plan for bringing cutting-edge technology products to larger markets. It provides insights into the realities of high-tech marketing with special emphasis on the internet.
Photo courtesy of Getty Images (man reading)
Source:
Traffic Secrets