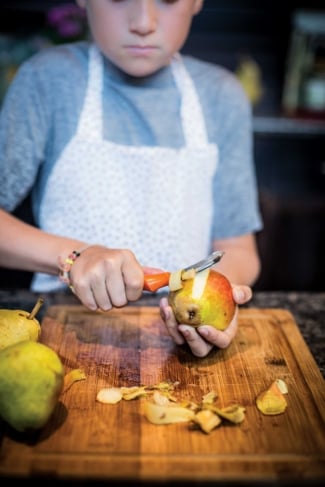 What do you get when you mix kids of all ages with a celebrity chef and give them a mission to cook for people in need? A unique and eye-opening volunteer experience for the whole family.
To my considerable delight, eight-year-old Alister is making dessert. Yes, my youngest son is peeling pears—brow slightly furrowed, tongue poking out of his lips in concentration. Once peeled and cored, the pears will be poached and served with a citrus-infused panna cotta. Pretty fancy for a kid in Grade 3, right?
Cooking with kids
Nearby, Alister's 12-year-old brother, Cameron, is chopping onions. His eyes are stinging, but with Chef Carl Heinrich nearby, Top Chef Canada winner and co-owner of the popular restaurant Richmond Station—and Bolognese sauce for 50 to prepare—there's no way he's going to throw in the towel. Or the chef's knife.
The boys and I are at the Massey Centre in East York with Kids Cook to Care (KCTC), a unique nonprofit that gives child volunteers a chance to cook for people in high-need communities, acquiring practical kitchen skills with some knowledge of different ethnic cuisines mixed in. Tonight they're working alongside eight other kids ages six to 16 to make an Italian meal for the young expectant and new moms who live at the centre.
The birth of a unique program
KCTC was founded in 2009 by Toronto moms Jill Lewis and Julie Levin. "There was a lack of authentic volunteer activities for kids—little kids—to do in Toronto. So I thought, why not put them in a kitchen, hook them up with a celebrity chef, and let magic happen?"
"We used to live in New York, and when we were there we volunteered at a shelter on the upper west side," says Lewis. "When we moved here, I promised the kids we would cook and care in Toronto, but no one would let us into their homeless shelters or soup kitchens. It was adult-only or ages 10 and up. So with a girlfriend we decided, 'Let's do something, and see if we can make a difference.'"
The importance of volunteering
When Lewis approached me about KCTC, I jumped at the opportunity to participate with my two sons. As with so many well-meaning but busy families, I'd wanted for some time to find a hands-on volunteer opportunity that would allow them to make a difference while getting face-to-face with those who have less. But I never managed to research how to make that happen. Our contributions to good causes had become mostly about making monetary donations to charities, something that can be pretty invisible to kids.
Even better, the opportunity totally fit with my nature, which is to demonstrate affection and concern for others through food. Like the legions of casserole-bearing women before me, I'm all about the food love—in times of crisis (such as sickness or grief) or in times of joy (such as the arrival of a new baby). And in between, there's the everyday business of sustaining my family with—at least on good weeks—wholesome food.
Heinrich says KCTC holds a lot of meaning for him. "I very much relate to the program, to the kids cooking and especially to the Massey centre. My mother had me when she was 19 years old and I was her second kid. We went through probably more difficult times than most growing up." His education as a cook began when he was in his early teens and his mom, then in her late twenties, was working full-time and juggling her duties as a single mother of three.
"My oldest sister and I started cooking one meal a week. That's why I choose this meal because the sauce was one of my first meals cooking for my family. I'd come home from school, open the cans, brown the beef, have a sauce ready, boil some water, and my mom would come home and tell me when the noodles were done. That started, not necessarily the career, but the passion for food. We never ate out at restaurants and we never had expensive ingredients. It was ground beef and frozen chicken breasts, but we ate well on a budget."
Capable and confident kids
Just as the leftovers from Heinrich's first batches of spaghetti sauce would be turned into lasagna and then chili later in the week when he was growing up, the kids at KCTC chop enough onions and mushrooms, and—with a little help from some moms who handled stirring over the hot industrial stoves—make enough sauce to leave a giant pot of leftovers for the young women.
Next, the little hands roll balls of pasta dough into long snakes, older kids slice them into pieces, and everyone's thumbs are put to use shaping the pasta. The kids then fly into action when Heinrich says the meal cannot be served until the kitchen is clean. The other moms and I look at each other. If only we could command such efficiency!
The kids then form an assembly line to plate the pasta, sauce, salad, and garlic bread, and the youngest volunteer—six-year-old Grace—proudly helps ferry the plates from the counter to the residents, many of whom are cradling babies in their arms.
To get to the Massey Centre on time that day, I'd pulled the kids out of school an hour early, a decision that was easy to make given the richness of the experience. When all the guests were served, the kids joined the residents at the tables with the plates of pasta they'd been so eager to taste while working in the kitchen. My boys sat next to a young woman who didn't yet have a babe in arms. "Stay in school, kids. And don't cut class either. It's a bad path to go down."
There was never any doubt, really, but I couldn't help feeling that this one moment alone made it well worth having the kids miss last period of school that day.