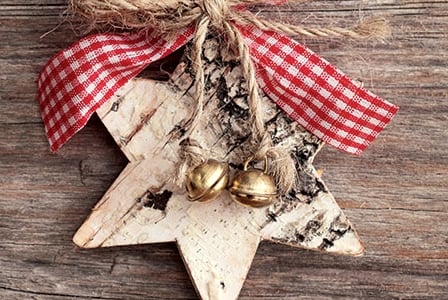 Choose meaningful gifts for your family and friends this holiday season. Sustainable, healthy, and eco-friendly options are available at your natural health retailer\'s.
It's that time of year again—time to make lists, check them twice, and realize that you're not sure what half the people on your lists actually want. Luckily, alive has compiled some great gifts that you can pick up at your local natural health retailer. This winter, give gifts that will energize, entertain, and maybe even inspire your loved ones.
To energize
Spoonk mat
This versatile acupuncture mat helps to energize in the morning or relieve stress in the afternoon. It's made from organic materials and eco-friendly foams , so it gives some peace of mind, too. spoonkspace.com
Salt Spring Coffee blends
A perfect gift for coffee connoisseurs, these blends are certified organic, fair trade, and direct trade, so you know they'll produce a steaming cup that does good and tastes great. saltspringcoffee.com
BeginAgain Kickin' Putt balls
Get the kids' excitement—and imaginations—going with this great game! Follow the rules or let them make up their own, and feel good knowing that it's made of oil-free natural rubbers and wheat plastic. beginagaintoys.com
Liberty water bottles
This durable water bottle is perfect for fitness lovers. Made from recycled aluminum, the bottles also have a wide mouth design to make them both eco-friendly and practical. libertybottles.com
To calm
Have a loved one who needs to take a deep breath and relax? These peace-promoting presents can help them do just that.
Abundance Naturally baby products
This baby body care line is perfect for young, sensitive skin. And, since it's free of harsh chemicals, it's also a perfect way to give mommy some peace of mind. abundancenaturally.com
Halfmoon eco yoga mat
Help the yogi on your list improve not only their own health, but that of the planet as well! This eco-friendly yoga mat is compostable, recyclable, and latex-free. shophalfmoon.com
Fable Natural lip balms and Badger lip tints
Two great ways to show some love to winter-weary lips. Both are made from organic and fair-trade ingredients, while Badger gives lips some shimmer and Fable Natural uses completely biodegradable packaging. badgerbalm.com and fablenaturals.com
Pheylonian beeswax candles
These candles are made with beeswax and contain plant fibre wicks, safe alternatives to conventional ingredients. They're great for a relaxing night in—or as a unique centrepiece when entertaining! pheylonian.com
To indulge
The holidays are a time to let loose and get pampered, and these gifts are sure to show your loved ones (including the four-legged kind) that you think they deserve the best pampering around.
Silkberry Baby toddler clothes
Give little ones the best this winter! This adorable clothing line is made using eco-friendly and hypoallergenic fibres, such as bamboo and silk, so both mother and child can rest easy. silkberrybaby.com
Whistler Naturals bath and body products
Free of parabens, phthalates, and synthetic preservatives (among others), this luxurious line of bath and body products is a great way to give your loved ones the holiday spa day they deserve. whistlernaturals.com
ModaPet pet bowls
Fitted with a non-skid base and made of BPA-free plastics, these stylish pet bowls are both safe and durable—and they won't get pushed all over the kitchen floor. modapet.com
Snack 21 pet treats
Free of preservatives and additives, these treats are perfect for showing our other family members they're loved. We like them because they're all natural. Pets love them because they taste great! snack21treats.com
snack21treats
Long-distance giving!
With our proud nation being as far and wide as it is, it can be tricky to give those living far away a great gift to enjoy. Fortunately, a Snack Box subscription delivers monthly boxes of scrumptious (gluten-free and all-natural) snacks straight to your loved one's front door! What they love can then be bought again and again at their local health food store. getsnackbox.com
To inspire
Inspiration can come anytime—including the holiday season. Try lighting that spark with these great gifts.
The Zero-Waste Lifestyle
Hoping to spread some eco-friendly tips? Then this book is a must! Filled with waste-reducing tips, The Zero-Waste Lifestyle (Random House, 2013) is a valuable resource for anyone looking to live greener (also available for Kindle).
Brewing Made Easy
Help the ale aficionado on your list go green! With simple how-to guides and clear instructions, Brewing Made Easy (Storey Publishing, 2013) will help them to create their own batches of organic, local brew (also available for Kindle).
Mineral Fusion Naturally Radiant Kit
This kit contains timeless cosmetic staples that are made without parabens, phthalates, and other common cosmetic chemicals, so that special someone can feel good about feeling like a queen this winter season. mineralfusion.com
Endangered Species chocolate bars
It's easy to get involved in wildlife conservation when it tastes this good! Ten percent of the profits made from the sale these delicious organic chocolates are donated to a worthy cause. chocolatebar.com
Note
We've made our best efforts to ensure that these products can be found at natural health retailers across Canada. However, not every store carries every product, so check with your local store. You can also visit any company's website to order online or to find a retailer near you.
Giving to nonprofits
Celebrate the season of giving with these outstanding organizations. You may even receive a token of their appreciation in return!
World Wildlife Fund
Committed to improving our natural environment in all its forms, the WWF works to combat global warming and protect our biological diversity. Charitable individuals can symbolically adopt an endangered animal and receive an adoption kit, complete with a plushy version of the animal they've chosen. wwf.ca
WaterCan Gifts of Water campaign
Fighting global poverty by helping the world's least fortunate populations gain access to clean water and basic sanitation, WaterCan's holiday campaign focuses this year on supplying clean water to schoolchildren in impoverished countries. While donations are accepted, charitable individuals can also purchase symbolic gifts of water. giftsofwater.ca
Organics 4 Orphans
This organization helps farmers in developing countries use their farmland organically and efficiently. Once new practices are in place, famers can then help support orphans in their communities. Donations to this outstanding organization support start-up projects and education programs so farmers can learn to make the most of their land. organics4orphans.org
---
Enter to win!
We're offering readers the chance to win an amazing selection of items from this year's gift guide! For more details, and to enter, follow the instructions on alive.com/contests
Contest closes January 17, 2014.