Nuts and seeds are such versatile ingredients that complement all types of dishes and cuisines. Other than eating them raw, making a creamy butter out of them ensures you can use them in a multitude of applications. So, let's get cracking!
Undeniably tasty and satisfying, nuts and seeds make a sensational out-of-hand snack or addition to any meal. While we may shy away from them due to their high fat content and calorie count, nuts and seeds are brimming with an impressive amount of nutritional benefits.
Generally, nuts and seeds all contain a good dose of heart-healthy fats, protein that leaves us feeling satiated, and fibre that helps control our cholesterol levels. They're also a veritable smorgasbord of vitamins and minerals that contribute positively to our bodies' overall workings, from energy production and bone development to helping our bodies better detox by reducing inflammation.
However, it's important to keep in mind, as with all foods, that eating a variety of nuts and seeds in moderation is key for our overall health and well-being.
At the end of the day, nuts and seeds are highly nutritious and delicious foods that can fit into almost everyone's diet. And while a sprinkling on a dish may be divine, why not create some oh-so-creamy and unique butters using nuts and seeds as the star flavourings?
Read on to discover some nut and seed butter recipes along with fun ways to incorporate them into your everyday meals. No matter how you crack them, making nuts and seeds a part of your daily regimen is sure to be a delicious way to maintain your body at its best.
Nut+ seed knowledge
| | | | |
| --- | --- | --- | --- |
| | Buying | Storage | Flavour profile |
| Almonds | Look for almonds that are firm with a creamy white colour throughout. Almonds that are yellowish or have a honeycomb pattern have spoiled. | Store almonds in an airtight container in a cool, dry dark place. If refrigerated or frozen, they will keep longer. | Slightly sweet, delicately nutty with a good crunchy texture that complements a wide variety of dishes. |
| Cashews | Pick cashews that are plump, firm, and an even creamy beige colour throughout. If possible, give them a quick smell, as cashews are susceptible to absorbing other odours. | Place cashews in an airtight container to prevent them from absorbing other food odours, and store in the refrigerator or freezer for several months. | Delicate nutty flavour with a creamy and lightly sweet taste. Extremely versatile and perfect as a thickener when blended into soups or smoothies. |
| Macadamia Nuts | Select macadamia nuts that are plump, crunchy, and creamy white in colour. | Macadamia nuts will keep in an airtight container in the refrigerator for a couple of months. | One of the sweetest and creamiest nuts available, macadamia nuts are delicious paired with seafood, game meats, coconut, chocolate, or citrus fruits. |
| Peanuts | Choose peanuts that are unblemished, plump, firm, and an even light brown in colour. Avoid those that are mushy or smell rancid. | The high fat content makes peanuts susceptible to rancidity. Store in an airtight container in the refrigerator or freezer for several months. Try toasting briefly in the oven before serving. | Their flavour will change depending on how they're processed, but generally peanuts have a beany, earthy flavour. |
| Pistachios | If shelled, look for pistachios with ivory-coloured shells that are not blemished or cracked beyond their natural opening. The pistachio kernel should be deep yellow or dark green. | Unshelled pistachios may be refrigerated or frozen in an airtight container for a couple of months. Shelled pistachios can be refrigerated, but should not be frozen. | Pistachios have woodsy and piney notes that make them versatile in both sweet and savoury dishes. |
| Pumpkin Seeds | Choose husked pumpkin seeds (or pepitas) that are a uniform dark green colour and are not shrivelled or blemished. | Pumpkin seeds will keep in an airtight container in a cool, dark environment for a month or two and can be refrigerated for up to twice as long. | With a rich earthy flavour and delightful crunch, pumpkin seeds are ideal as a garnish or used in baking as a nice textural component. |
| Sunflower Seeds | The edible part of a sunflower seed is called a kernel. Choose kernels that are firm in texture and light green to grey in colour. | Sunflower kernels have a high oil content and are prone to going bad quickly. Store in an airtight container in the refrigerator or freezer for several months. | Crunchy with a slight vegetal note to them, sunflower seeds are a great addition to any number of dishes from sweet to savoury. |
Recipes
Matcha Pistachio Butter / Matcha Pistachio Chia Pudding Parfait
---
Spicy Peanut Butter / Noodle-less Pad Thai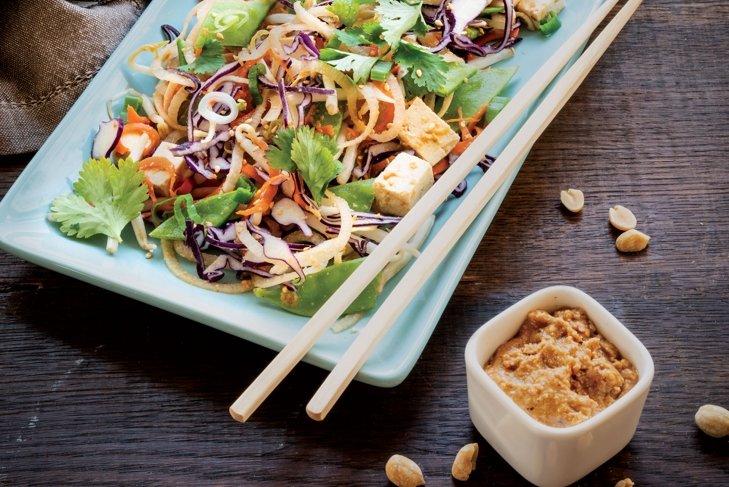 ---
Cardamom, Almond, and Pumpkin Seed Butter / Cranberry and Pumpkin Seed Bars
---
Sunflower Seed Turmeric Butter / Sweet Potato and Spinach Curry