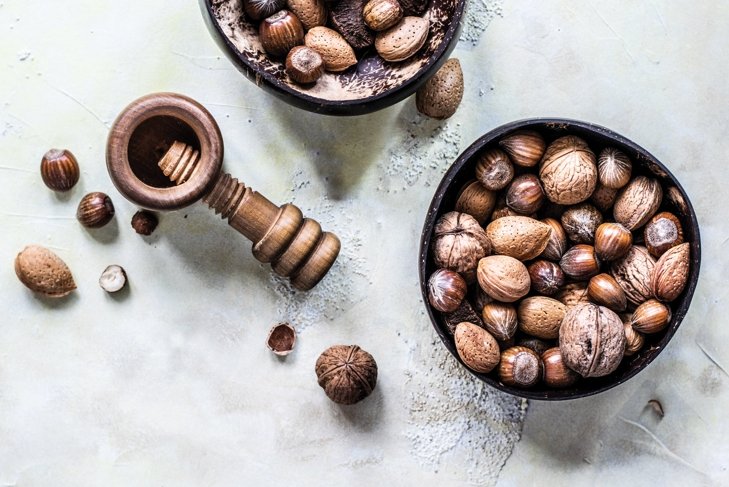 There's no denying it: protein has power—over our health and over the dietary choices we make each day. Whether you're currently a plant-based eater or interested in exploring the lifestyle, it's important to understand that not all proteins are created equal.
In her book, coauthored with Bruce Friedrich, Clean Protein: The Revolution that will Reshape Your Body, Boost Your Energy—and Save Our Planet (Hachette Books, 2018) best-selling author, Kathy Freston delves into the mysterious world of both animal and plant-based proteins to give readers a clearer understanding of the myths and facts surrounding them.
As a passionate vegan, dedicated to educating and inspiring others, Freston is clearing up the confusion surrounding protein. The authors reveal in their book how certain foods can affect our bodies as well as the environment. They also address questions around how much protein we need and the importance of choosing "clean protein."
According to Freston, "clean protein is protein that's free of contaminants and health concerns." As well, clean proteins are mostly whole foods that are also easy to find and easy to afford. Even better? They're not just good for our bodies, but they're also good for the planet too.
Powerful plant-based sources of clean protein
Wondering where to find these clean sources of plant-based proteins? You're probably familiar with many, and most likely have some in your pantry already. Examples of clean proteins include nuts, seeds, tofu, and vegan protein powders.
Other options include staples like spinach, brown rice, and legumes. Try a brown rice bowl with spinach and chickpeas, topped with a dressing made from grainy mustard, miso, or tahini (sesame paste). Add in some favourite spices and you've got a protein-packed lunch fit for a queen.
The power of plant-based staples
1 cup (250 mL) of cooked spinach equals 5 g of protein
1 cup (250 mL) of cooked brown rice equals 5 g of protein
1/2 cup (125 mL) of chickpeas equals 7 g of protein
Add to these benefits the fact that this meal is full of nutritious vitamins, minerals, and fibre, and you have a power-packed protein meal that's as easy to make as it is delicious.
If you compare this to chicken or beef sourced from farms using antibiotics and hormones, there's simply no competition. Neither provides fibre. Both contain saturated fat and cholesterol. So, choosing plant-based, clean proteins is a win-win from any angle.
The power of protein packaging
According to Freston, you must look beyond just the protein itself. It's important to read the packaging of the protein you're considering. The packaging and labels will provide important facts and nutritional information. For example, Freston says, the label will tell you "how much cholesterol or saturated fat is embedded in your protein of choice, and whether or not it causes inflammation in the body."
Freston says that when you incorporate clean sources into your diet, your body is fueled for optimum performance. When we introduce foods that help our body achieve its full potential for digestion, absorption, and elimination, we may improve our health overall. Switching to clean protein aids our bodies in this endeavour, while also having positive effects on the environment.
She says, "Think about experiencing all the benefits of a typical high-protein diet—stronger muscles, healthy hair, glowing skin—same protein performance, but cleaner. That's clean protein."
A clean protein revolution is what our planet needs, too. "The world's population is rising. The demand for protein is growing, and the current system of raising animals for food is quite simply not sustainable," Freston says. "The land and water cannot bear the burden—nor can human health."
The power of protein portions
Freston reminds us that "protein is a natural component of vegetables, beans, grains, and fruits. When it comes to protein, if you're an athlete, you'll naturally eat more food, and protein comes along with it."
How much do we need?
According to the National Academies' Institute of Medicine, the current recommendation for adult protein intake is approximately 0.8 g per kg of body weight per day, or 0.36 g per lb.
A 143 lb (65 kg) woman should consume around 52 g of protein each day.
A 176 lb (80 kg) man should aim for 64 g of protein each day.
Growing kids need more protein for development.
Infants/children need about 1.75 g to 1.5 per kg each day, gradually decreasing as they reach their teens.
Teens need about 0.75 g per kg.
The power of protein purchases
Freston advises us to identify the clean proteins that we already enjoy and have in our pantries while stocking up on some new, basic additions like dark, leafy greens, different varieties of legumes, grains, and nuts as well as tempeh and/or tahini.
She also encourages us to try some new vegan options for clean proteins. She says, "These are excellent transition foods for people moving away from animal foods. They're often high in protein and fibre, while lower in saturated fat."
Did you know?
Small changes matter. Try these five vegan transition foods to help you ease into a cleaner protein diet.
pea protein-based vegan sausages and burgers
almond-based cheeses
plant-based yogurts
tofu
vegan hummus (check out our recipe at alive.com)
Although these aren't all considered whole foods, they can still hold an important place in our diets. "True, they may not be as ideal as whole grains, beans, nuts, and seeds," she says, "but they make moving away from the old, traditional proteins much easier! I'm a believer in progress, not perfection, so I highly recommend exploring the grocery shelves."
Did you know?
Supplemental protein powders are available in many vegan options to help support your clean protein diet. Visit your natural health food stores for the following options.
pea protein
hemp protein
pumpkin seed protein
brown rice protein
soy protein
sunflower protein
sacha inchi protein
chia protein
plant protein blends
When choosing proteins, clean, plant-based options are a great way to fuel and nourish your body while helping to keep our environment clean and our planet protected. Small changes and wise choices may lead to a healthier happier planet and a healthy, happier you.
Clean protein power tips for kids
For families looking to adopt a cleaner approach to protein, Freston offers a variety of tips.
Choose foods that kids like
Try, for instance, pasta made from chickpeas or lentils. Also "chick'n" nuggets, veggie pizzas mad with veggie sausage, or sandwiches made with delicious nut butters.
Take your kids shopping and deputize them in the kitchen
Giving kids choices will help them feel empowered and they're more likely to enjoy their food. Besides, they'll become more aware of the importance of treating animals well and helping the environment, rewarding them for making clean choices.
Try smoothies for a delicious, nutritious option
Try blending peanut butter, chia seeds, and bananas into nondairy milk for something sweet and nutritious. You can also add vegan protein powder and blueberries (the berries make everything purple and fun to drink).