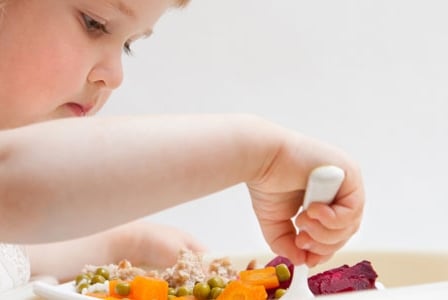 What's visually appealing on the plate depends on your age. To entice a picky eater, offer them a plateful of food items in different colours.
Do you have problems appealing to the picky eater in your family? I used to be one. I can remember sitting at the kitchen table pushing food around my plate for hours. My mom had already washed the dishes, my dad had rebuilt his car engine, and I was still pushing Brussels sprouts around my plate, hoping they'd magically disappear.
Nutritional experts have long told us that eating a rainbow of colourful fruits and vegetables is good for our health. Now researchers have shown that the way to appeal to a picky eater is to load their plate with colourful food choices.
Kids and parents have different tastes
\"What kids find visually appealing is very different than what appeals to their parents,\" said Brian Wansink, professor of Marketing in Cornell\'s Dyson School of Applied Economics and Management.
Wansink's team of researchers presented 23 children and 46 adults with full-size photos of 48 different food combos. These combos varied in number of items, placement of entrée, and food organization on the plate.
\"While much of the research concerning food preferences among children and adults focuses on \'taste, smell, and chemical\' aspects … people appear to be significantly influenced by the shape, size, and visual appearance of food that is presented to them,\" says co-author Kevin Kniffin.
How to appeal to the picky eater
serve 7 different food items
choose 6 different food colours
place the entrée at the front of the plate
use fun, figurative designs
Adults' food sensibilities are much more subdued. They tend to prefer three different food items in three different colours.