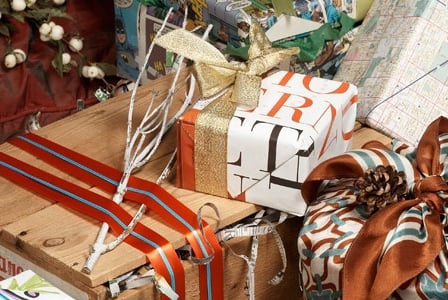 Looking for eco-friendly, green, and inexpensive gift wrapping for your gifts this holiday season? Get creative.
Looking for eco-friendly, inexpensive ways to wrap your gifts this holiday season? Get creative with orange boxes and elephant dung.
"Canadians spend millions of dollars each year on gift wrap," writes David Bach in Go Green, Live Rich (Broadway Books, 2008). "With the money that a typical family spends on gift wrap, a homeless person could eat for a month." These eco-friendly suggestions not only save you money, but they also reduce energy consumption and protect our natural resources.
Remember–it's crucial to plan ahead. If you leave things until the last minute, you're more likely to rush out and buy glitzy, expensive wrapping paper. Instead, start early and make gift wrap part of a green holiday experience.
Commandeer Kids' Art Projects
Children's art projects can make sentimental yet simple holiday gift wrap. If you don't have such decorative paper already posted on your fridge, set the kids up with recycled paper, natural paints, and organic materials such as hemp, bamboo, or soy silk yarns. Their festive chore is to make wrapping paper for the whole family…while you relax with a hot apple cider.
Stuff Gifts Inside Other Gifts
Wrap gift cards in fluffy socks or slippers, or fold a cookbook into an apron. Shawls, scarves, towels, and afghans–tied up with a pretty bow or ribbon–are fabulously practical ways to enclose gifts. Travel mugs, ceramic coffee cups, bicycle helmets, and beach or garden pails are also empty vessels begging to be filled.
Use Hemp, Silk, or Cotton Tote Bags
Cloth bags make great gift wrapping that can later be used for library books, groceries, and odds and ends in the car. You can make your own cloth bags out of red, white, and green material–sew in a satin drawstring for extra luxury.
Dig Out Your Old Maps, Calendars, and Comic Books
Your 2008 calendar will be history soon, so put it to good use now. Get eco-creative and wrap your gifts in an eclectic assortment of old calendars, outdated maps, glossy magazine pages, and newspapers.
Use Mandarin Orange Boxes
"I save our clementine boxes every year and reuse them to create gorgeous gift baskets," says one creative gift crafter. "You can shred paper or paper bags to use as stuffing. Just top it off with a recycled bow from last Christmas and you're set to go with an eco-friendly gift." For a festive look, try colouring, painting, or pasting natural decorations on the outside of the box.
Find Exotic Recycled Paper
In case you're still curious about the elephant dung, look in your local stores or Christmas craft fairs for recycled, sometimes handmade, wrapping paper. Mr. Ellie Pooh (mrelliepooh.com) is an organization that recycles Sri Lankan elephant dung into stationery, crafts, and wrapping paper–without using toxic chemicals or depleting natural resources.