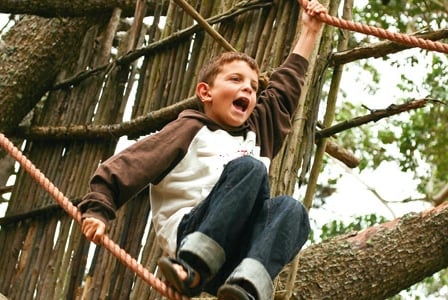 Natural playgrounds (which incorporate elements such as trees and flowers) may inspire kids to be more active and use their imaginations.
What image pops into your head when you think of what a playground looks like? If you think of brightly coloured metal or plastic, void of natural life, you may be behind the times. A new trend in children's playgrounds is the "natural playground" or "natural playscape."
These places incorporate elements from nature, such as trees, flowers, logs and tree stumps, hills, boulders, and even streams. So far, they've been growing in popularity, and for many reasons. The Government of Alberta explains that "In natural play spaces, children can play freely but also be involved in organized programs led by a teacher, parent or other community member …The variety offered by a natural play space appeals to kids and supports a wide range of play opportunities."
Now, a new, currently unpublished study from the University of Tennessee is showing that this new way of creating playgrounds might be much better at engaging kids than the non-natural playground counterpart.
The researchers compared children's use of one playground before and after its renovation from a traditional playground to a natural one. According to the study, compared to the traditional playground, the natural one inspired kids to:
be more active (doubling the time they spent playing)
use their imaginations
take part in more aerobic and bone- and muscle-strengthening activities
use motor skills
use the porch (sedentary/rest) area less often
These results show that playground design has a big influence on how children engage with their environment, and the degree to which they're active or sedentary.
Want to learn more?
Check out recent alive articles and blog posts about:
the proven health benefits of spending time in nature
why free play is so important for kids
the stats on how many Canadian kids are inactive